Car Inverter 12V To 220V 4000W 3000V USB Power Auto Charger Charging Kit Adapter Transformer Converter Electronic In Accessories
Attentions: 3000w without usb , 4000w with usb
100% brand new and high quality
Output voltage: 220V (+-)5% / 110V(+-)5%
Output frequebcy : 50hz (+-)2
Output wave form: Modified sine wave
Rated power: 3000W
(without USB
) /
4000W (with USB
)
Power inverter input: DC10-15V
Continuous power:1300w (3000W) / 1500W(4000W)
Over temperature protection: 55-77 degree
Low-voltage turn-off voltage (no load):DC 8V-12V
High-voltage turn-off voltage (no load): DC 13-17V
Can convert DC12V into AC 220V & AC 220V output
Can be directly used to charge for MP3 and mobile phone
Can protect the electric circuit
Under voltage shutdown protection.
Overload protection, overheat protection.
Low battery alarm, low / high battery shut down.
Protect the electrical and automotive circuits in use.
Aluminum Alloy case, antioxidant, sturdy and durable.
A universal socket, available in many countries
Can work under the circumstance of ultrasonic sound
Application:Water pump and refrigerator,High power electric cooker,Low-power induction cooker,Microwave ovens
Operate a 13 TV for about hours from a typical car battery
Simply plug into 12-volt outlet for instant AC power
Size: 31cm x 15cm x 6.5cm
1.Place the power switches of the inverter and the AC device on the OFF position.
2.Connect properly to DC power source in compliance with the rating input voltage.
3.Plug the cord of the AC device in the output socket of the inverter.
4.Turning the switch of inverter on (the switch indicator gives light), then that of the AC device, this AC device can be used now as under the power supply.
Please treat the outlet of the inverter with the same respect as that of any household power .
Don\'t place any article on/over the inverter when operating . Keep the circulation of air around it.
It gets so hot after working at a full load for a long time that it may hurt you if you touch it.
Avoid the reach of children
Avoid using it at a place that is wet , high temperature , flammable or explosive.
When the red light is flashing may be caused by the following improper operations:
1.The battery voltage is not correct.
2.Short circuit: The line connected is error.
3.Overload : The electric devices voltage is too high.
1x Power Inverter (12V 3000W / 4000W)
--------------------------------------------------------------------------------------------------------------------------------------------------------------------------
Because the types of electrical appliances are of different types, the results are for reference only and are not promised. The actual situation shall prevail.
Поскольку типы электроприборов имеют разные типы, результаты приведены только для справки и не обещаны. Фактическая ситуация имеет преимущественную силу.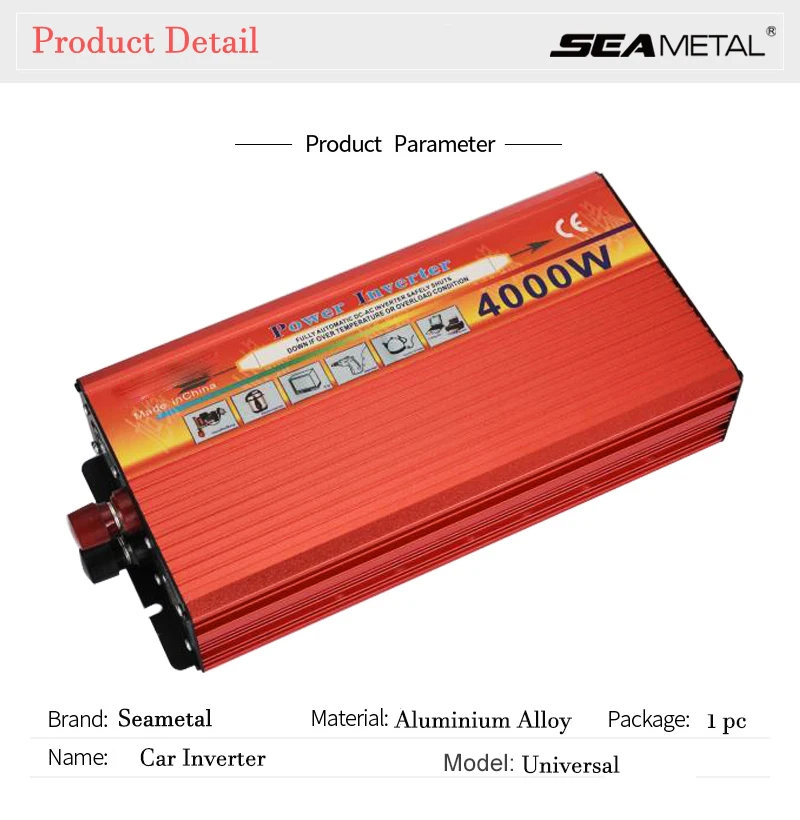 Car Inverter 12V To 220V 4000W 3000V USB Power Auto Charger Charging Kit Adapter Transformer Converter Electronic In Accessories